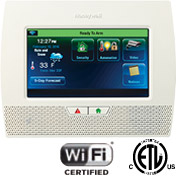 LYNX Touch 7000
Features on-screen video, Z-Wave® automation capabilities, advanced alarm communications, garage door notification and control for U.S. and Canadian residents. Honeywell Home LYNX Touch 7000 control system features a bright, 7″ full-color touchscreen with graphic icons and intuitive prompts for easy operation. It features on-screen video, Z-Wave® automation capabilities, advanced alarm communications, garage door notification and control, tornado alerts for U.S. and Canadian residents, and remote software upgradeability. LYNX Touch 7000 is designed for broadband cellular communications. The Wi-Fi® module offers the lowest cost alarm communications (including two-way voice) and remote services solution – saving installation time and reducing monthly operating costs. The Z-Wave connectivity module lets installers integrate security, lighting, thermostats, water valves and more – for local and remote control. With Resideo Total Connect® Remote Services, users can control security, thermostats, lighting, locks, receive alerts and more from most smartphones, tablets and computers.
System Features
7″ color graphic touchscreen
– Resolution 800 x 480 pixels
– 16.7 million colors
– Intuitive easy-to-use touchscreen interface
– Easy to understand icons
– Menu driven navigation
– Quick, accurate programming
– Two dedicated keys for easy access to the home screen and emergency functions
On-premises video viewing
– Integrated video: System supports up to four cameras, which can be displayed individually or in a quad configuration on the touchscreen. Works with compatible Resideo Total Connect Video products only (iPCAM-PT, iPCAM-WO, iPCAM-WI2/B, ACU).
Wi-Fi support
– Alarm communication to AlarmNet® and lifestyle messaging via the user's Internet connection
– Two-way voice over Wi-Fi
Integrated Z-Wave provides control and integration of:
– Thermostats
– Water valves
– Door locks
– Sirens
– Lighting
– Scenes, schedules and rules
– Local, automatic and remote control via Resideo Total Connect
Push/Pull content through Resideo Total Connect
– Weather available in Fahrenheit or Celsius (one day or five day forecasts)
– Emergency alerts (tornadoes) – requires Resideo Total Connect with Information Services Package
– Dealer/Central station messages (payments due, sales opportunities, community news)
– End-user requests for sales or service
Advanced Protection Logic™ technology
– With APL enabled, the alarm can be reported even if the system is tampered with during the entry and communications delay times. APL can be selected when using a Honeywell GSM, CDMA* or IP communicator.
Voice announcement of system and zone status
Family message center (for user recorded messages)
Works with Resideo Total Connect
– Remote control of security, garage doors and Z-Wave devices
– Selected event notifications
Voice chime by zone
10 selectable chime tones
Automatic stay arming
48 user codes (Installer, Master, plus 46 Secondary, including Duress and Guest)
Three panic functions
Wall or desk mount
Viewable event log stores up to 256 events
Exit error feature (detects difference between an actual alarm and exit alarm caused by leaving a door open after the exit delay expires)
Case tamper
RF jam detection
Quick Exit feature provides users with an exit delay after arming their system
Night Stay and Silent Exit modes
Hinged cover for easy installation
Real-time clock display
Garage Door Function
– Up to four garage doors per system
– Unique garage door icon
– View and monitor garage door status
– Auto-secure feature
– Remote notification via Resideo Total Connect
– Garage door control*
– Automatically control door via scenes, rules and schedules
– Locally open/close garage door from touchscreen
– Remotely open/close garage door via Resideo Total Connect
Zones and Devices
One hardwired zone
Wireless zones – 80 programmable plus 24 dedicated to keyfobs
Supports wireless bidirectional keypads
Internal GSM or CDMA radio option
Wi-Fi module option
ILP5 Internet module option
Programmable trigger output
*CDMA is available in USA only.
**Requires 5877GDPK, consisting of the 5877 Relay Receiver and Z-Wave Strobe/Sounder. Not compatible with certain garage doors and garage door openers. Garage door control must have working entrapment protection. See installation instructions for details.

Integrated Z-Wave® Support
Up to four thermostats (HVAC system or battery powered) with 1°F and 0.5° C set points
Six door locks
– Jammed locks reported to Resideo Total Connect Remote Services
40 devices (lights, switches and lamp modules)
20 scenes
20 rules (event-based actions)
20 schedules (time-based actions)
Sunrise/sunset lighting control
Randomized lighting control
WiFi
IEEE 802.11 B/G/N radio
Supports alarm reportingv
Supports two-way voice over GSM, CDMA or Wi-Fi
Communications
Broadband only – GSM, CDMA, Wi-Fi or IP
GSM radio – protocol supports AT&T and Rogers™ networks
CDMA radio – protocol supports Verizon® network
ADEMCO® Contact ID Reporting (four digit account numbers)
SIA Format Reporting
Internet central station communication with L5100-WIFI or ILP5 module
GSM or CDMA cellular central station communication with internal GSM or CDMA radio
Selection for primary communication path when using dual paths
Touch activated radio registration
Radio signal strength display
Two-way voice communication over IP/Wi-Fi, GSM or CDMA
Resideo Total Connect ready
Alarm Output
Built-in 85 dB sounder with voice siren
Steady output for burglary/panic
Temporal pulse output for fire and carbon monoxide alarms
Long range radio/audio alarm verification
Programming
Options stored in EEROM
Can be uploaded, downloaded or controlled via IBM-compatible computer using Compass Downloader software and GSM, CDMA, Wi-Fi or IP communications module
Intuitive programming interface reduces time and mistakes
Programming options selected from allowable list
Contextual options, defaults and pre-fills for faster set-up
Listings
UL 985, UL 1023, UL 1635
CAN/ULC-S545, CAN/ULC- Subject-C1023
ANSI/SIA CP-01-2010
System Power
Primary power: plug-in power supply, 110VAC to 9VDC, 2.7A output 300-04705V1 or 300-04065V1 (300-04063V1 in Canada)
Four or 24-hour backup battery: rechargeable nickel-metal hydride battery pack rated at 7.2Vdc
Operating temperature: 32°F – 122°F (0°C – 50°C )
Dimensions
7.5″ H x 9.5″ W x 2.0″ D (19.1cm H x 24.1cm W x 5.1cm D)

2627 Leighton Ridge Dr.,
Suite 100
Wake Forest, NC 27587